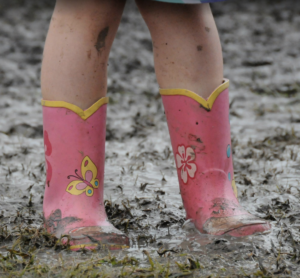 This blog was originally posted five years ago, but as rain and Jazzfest go hand-and-hand, I have found myself tweaking and reposting it almost annually. And with Jazzfest 2019 beginning tomorrow, and a 90% chance of rain in the forecast, it seems necessary to post it once again.
The countdown is over! Jazzfest 2019 kicks off tomorrow, and while the music and food will, no doubt, be amazing, it does not appear that the weather will be. With tomorrow's rain chances at 90%, including fairly strong winds, thunderstorms, and significant accumulation, festers can be fairly certain that they will get, at best, a little soggy. While we can all agree that it would be more enjoyable to fest with the sun shining down on us and dry ground beneath our flip-flopped feet, we should prepare for, and even embrace, whatever Mother Nature sends our way. (After all, watching the skies open up and dancing to Dave Matthews in sideways rain in 2013 and seeing Keith Urban playing in the middle of a drenched crowd in an absolute deluge in 2015 are both in my top ten best Jazzfest moments.) There are, however, some ways to keep yourself and your things from getting entirely soaked.
Rainy Fest Do's
Pack a poncho. If you forget, there will be "entrepreneurs" selling them at the gate, but expect to overpay.
Bring garbage bags or a tarp to sit on if you enjoy sitting on the ground.
If you choose to carry an umbrella, be considerate of your neighbors and keep it low. Better yet, set vanity aside and utilize your poncho's hood. It's not there simply for decoration.
Place your cell phone in a Ziploc bag to save it from water damage.
Don't forget sunscreen…even a few minutes of sunshine in between rain showers can result in a substantial sunburn.
Bring your sunglasses for the same reason. You never know when the sun will make an appearance.
Invest in some boots! *Ladies, a cute pair will draw the eye away from your less-than-flattering plastic poncho.
Bring an extra pair of shoes for the drive home. Put your muddy boots in a trash bag (bring an extra, as you'll want to throw away the ones you sat on) and your car will stay clean!
If you decide against boots, try to find a grassy spot early in the day. Any dirt areas will become mud pits as the day goes on, and sometimes that "mud" isn't just mud. Your feet deserve better!
Think back to previous Jazzfests when it was sweltering and you were praying for a rain shower, or even just a small cloud, and enjoy yourself.
Remember that, although the weather looks more favorable for the rest of the weekend, the grounds will remain extremely sloppy, especially around the Acura Stage. Those boots and garbage bags might be a necessity, even if you're not going tomorrow.
Try to stay dry, and I hope to see you at the Fest!