If y'all know me at all, you know that I am a huge fan of Jazzfest. I refer to Mardi Gras as the most wonderful time of the year, but honestly, the two weekends of Jazzfest are equally wonderful if you're a music lover like me.
When I looked at the school calendar last summer and saw that my son's high school graduation was May 4 of this year, I knew my Jazzfest experience for 2019 would be cut short. I had lucked out four years earlier when my daughter graduated, as her ceremony was later, resulting in Brass Passes and the full seven days for both of us. That year was a level of special that will be difficult to duplicate, but I will never say never.
While I knew that my days would be limited this year, the four Rolling Stones tickets tucked away in my jewelry box had me pretty jazzed. (See what I did there?) My plan was to attend three days the first weekend, and Stones Thursday the second weekend, even though graduation guests would be arriving that day. I mean, it's the Stones…who could fault me for abandoning the family for one little day? When Mick's health forced them to cancel, I opted out of Thursday, and with some serious graduation crawfish boil prep work to do, I also bailed on Sunday, leaving me with only Friday and Saturday of weekend one. It would be my fewest number of Jazzfest days in at least a decade, but two days were better than nothing, especially since these were the two days my graduating son had chosen to go with me.
We donned our rain boots and headed out early on Friday, in an effort to maximize our time. The weather was perfect, and we spent the early part of our day taking in some of our favorite local acts. Corey Ledet and his Zydeco Band were entertaining a large crowd at the Fais Do-Do stage, and we were charmed by the dancers (many senior citizens and most wearing elaborate hats) tearing it up on the makeshift dance floor. Next on our list was taking in some of the Brass-a-Holics set on the Acura Stage. If you've never heard of the Brass-a-Holics, you should give them a listen sometime. They do play some original songs, but their mashups are crowd favorites. The one consisting of Nirvana's 'Smells Like Teen Spirit" and Sir Mix-a-Lot's "Baby Got Back," with Michael Jackson's "Smooth Criminal" bassline is hard to top. We checked out some art, ate some great food (oh, how I love you, Crawfish Monica), and just enjoyed everything the Fairgrounds has to offer. We finally made our way to the Gentilly Stage, where we ended up one row back from the rail for Head and the Heart. I had seen them once before (lost and by myself at another festival…that's a whole other story), and they were even better than I remembered. (They'll be at the Fillmore in September, and you should check them out at that beautiful venue if you have the opportunity.) The festival gods smiled upon us when their set finished, as the couple in front of us opted to see Santana, leaving us their spot on the rail for The Revivalists. I've seen the Revivalists numerous times, and every time is better than the time before. We finished our day singing along with David Shaw and the boys, and we drove home discussing how this had been our best Jazzfest day together yet…and we've had a bunch!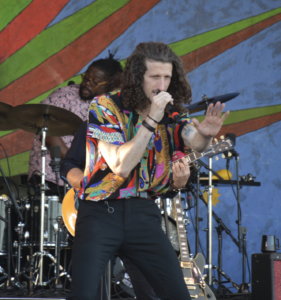 Saturday had some big shoes to fill (we went with flip flops instead of boots and had no regrets), but we knew that starting our day with Maggie Koerner would be a win. No, I'm not obsessed, but yes, I think she is one of the most talented people on the planet. A lady from Illinois who was standing next to us marveled at her talent and couldn't imagine why she had not achieved international fame. (I've wondered that myself from time to time.) She suggested that Maggie try touring with Taylor Swift or Ed Sheeran to get more exposure, so Maggie, I hope you're getting right on that. 🙂 We were treated to a full hour of awesome, and those that didn't know her before certainly do now. We worked our way to the overflowing Gospel Tent, where the Zion Harmonizers took us to church and offered us a chair and some much needed shade. We got up close and personal with Better Than Ezra, joined once again this year by John Papa Gros. Yep, we were right there when Kevin Griffin came out into the crowd for BTE's cover of "Tiny Dancer." I feel that I owe my Griffen an apology for my ultra-loud singing. Kyndall is accustomed to it, but Griff, I hope you were not too embarrassed. I just can't help myself. We enjoyed some more good eats (cochon de lait po-boy and praline beignet for me), then ended up at the Gentilly Stage once again. The crowd gave a collective laugh when Preservation Hall Brass Band took the stage to the Stones "You Can't Always Get What You Want," and, to no one's surprise, they put on a great show. We finished our fest with the fabulous Leon Bridges, who we saw together on that same stage two years ago. It was the perfect way to close out the 50th anniversary of our favorite festival. And when my 18-year-old, who had spent two full days with his 50-year-old mom told me this was, in fact, his favorite fest day with me ever, my heart melted a little. I know this will be our last Jazzfest together for at least five years, and I get pretty darn weepy when I let myself dwell on it, but I know that those are two days we won't soon forget. And while I originally lamented the idea of only two days of fest fun, I wouldn't change a thing about our Jazzfest experience. How about we do it again in 2024, Griff. 🙂