There is nothing I enjoy photographing more than the majestic oaks that are so much a part of the landscape of South Louisiana. My files are bursting with photos of trees taken all over the area, most of them moss covered and massive. There are some special trees that I return to again and again, not expecting them to change, but hoping to catch them in a different light or from a new angle. Or maybe not. There are certain trees that have made dozens of appearances on my phone or computer, and honestly, they look almost identical in each shot. And I keep every single one. My obsession spans just over two decades, which, not so coincidentally, is when I moved to the area.
Many people who follow my antics assume I am from New Orleans, and while I truly believe that my soul is, the rest of me is all Texan. I was born in the piney woods of East Texas, however, my family moved to the Texas Panhandle when I was barely more than a toddler. The sweeping plains, dotted with cattle and an occasional windmill, were what I knew as home. The Panhandle is known for its wonderfully nice people and beautiful sunsets that you can see clear to the next county (yes county…not parish), but as far as trees are concerned, you may want to look elsewhere. Of course there are some trees in the Panhandle. People plant small trees in their yards or along their property lines, which will often grow quite tall, providing plenty of necessary shade on those hot summer days. There are also mesquite "trees" that are indigenous to the area, although you're probably not going to want to throw a blanket on the ground and enjoy a picnic lunch under a mesquite. (Ironically, one section of my hometown is made up of streets named for trees. This has nothing to do with anything, other than it is actually pretty amusing to me now.) Bottom line, it is not as if I had never seen a tree before moving to Louisiana. I had seen plenty. I had just never seen a TREE.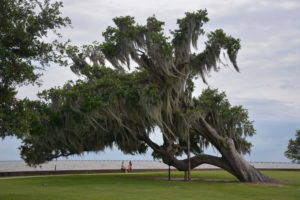 I remember my first encounter with one of those beautiful oaks while walking along the Mandeville lakefront. We had a new baby and were having a family portrait taken on an unseasonably cold November day. The photographer placed us in front of a giant, moss-covered oak, and I was humbled by its enormity. (The photos weren't great, but the tree looked fantastic.) I have returned to that tree hundreds of times over the years, and I am equally blown away every time.
In addition to those lakefront trees, one of my favorite sights is a giant oak taking center stage in front of a home. Sometimes it's a small cottage, that appears to have known since its beginning that it would not the be star of the show, and other times, it is a relatively large home that tried its best, but simply could not compete. In many instances, the house virtually disappears under the shadow of the tree's outstretched limbs. Even the mansions on St. Charles have to fight for the spotlight. (By the way, there are few streets more beautiful than St. Charles Avenue. Walk it or take the streetcar down.)
Perhaps the greatest collection of these massive oaks is in City Park in New Orleans. http://neworleanscitypark Until you have seen these behemoths for yourself, their branches stretching twice as wide as they are high, many of which reach and spread across the ground, you can not appreciate their magnificence. They date back hundreds of years, and have withstood floods, hurricanes, and a whole lot of people, with only minor scars. Photos just do not do them justice, but I'll share some with you anyway. And if you have not had a chance to see them in person, take a break from the French Quarter on your next visit. I promise you won't be disappointed.
(Check out more of these beauties on Instagram at nolajules68)