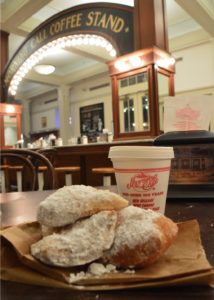 *Confession…I am not actually eating beignets right now, as this blog entry claims. I was, in fact, indulging in some unhealthy awesomeness when I wrote this, but when it was ready for posting, I discovered that the coffee shop did not have working wi-fi. I thought wi-fi and coffee shops went together like…well, like wi-fi and coffee shops, but not necessarily in New Orleans.
Day 13 – Beignets
It's Day 13 of my challenge, and I am currently consuming the topic of today's post. And boy, they are good! If you're from the New Orleans area, you have undoubtedly eaten beignets. You may even know how to make them! (I pride myself on being a pretty decent baker, but my one attempt at beignets resulted in dense, greasy hockey pucks. Where was the "puff"?) If you are not from New Orleans, or if you've never vacationed here, chances are you've never had the pleasure enjoying the deliciousness that is a beignet, and for this, I pity you just a little. A bit like a donut, but not really…sort of similar to a sopapilla, but different. A beignet is really just a deep fried pastry covered in powdered sugar…and I do mean covered! They are typically sold in orders of three, and that's just about the right amount to make you feel good and sick. While most people enjoy their beignets accompanied by a cup of coffee, I am not a coffee lover, or even liker, so mine are typically chased by some good old H2O. I was feeling a little chilled tonight, however (I mean it is 65 degrees), so I ordered a cup of hot chocolate with my sugary trio, and I must admit that this was a mistake. The combination was a tad too sweet, and, at this particular moment, I am experiencing a pretty serious sugar buzz. I now remember making this mistake on a previous occasion, but the "cold" weather got the best of me tonight, and my good sense went out the window. Even worse, I made the rookie mistake of wearing black, both pants and shirt, meaning I'll be going home in a lovely black and white ensemble. (Because, did I mention there's A LOT of powdered sugar?)
If you get a hankering for some deep fried, sugary goodness, venture out for some beignets. Sure, you can get some excellent ones at Cafe du Monde, a destination on most tourists' to-do lists, but remember, there are other places that are equally tasty. I'm a little partial to Morning Call in City Park. You'll have to test the coffee out on your own, but the beignets are good, and it's hard to beat that retro sign and the picturesque location. Just don't go for the wi-fi.