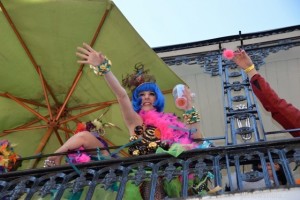 I have never wanted to ride in a Mardi Gras parade. Shocking, isn't it? I love Mardi Gras…everything about it. I have a Mardi Gras tree in my living room. I'm amassing a nice little colored wig collection. I wear a doubloon belt during Carnival season, for pete's sake! Still, riding on a float has simply never appealed to me. Perched on a moving vehicle, attempting to throw what inevitably become tangled beads to thousands of screaming parade-goers…frantically searching for family and friends along the route so you can bombard them with the "good stuff" they've been promised. It all just seems really stressful to me.
I assumed I would always experience Mardi Gras as an onlooker until two years ago when a friend and I ventured to the French Quarter the Friday prior to Fat Tuesday. Our agenda included watching the Greasing of the Poles and enjoying a beautiful day in the city. http://www.bizneworleans.com/January-2016/Royal-Sonesta-New-Orleans-Announces-46th-Annual-Greasing-Of-The-Poles/ We also hoped to run into some friends who would be walking in parades. We did find our friends, decked out in their amazingly beautiful, handmade, beaded bustiers, and it didn't take more than a few minutes for us to realize this was something we needed to be a part of. I especially loved the leisurely pace of the parade and the ability to easily spot friends along the way. Lucky for us, the Prima Donnas invited us to join their group, and this Friday will be our second time participating in the revelry.
Preparation for the event starts months before parade day. The theme for the group is announced to members, then smaller groups choose their sub-themes at a "hat reveal" party. Each small group chooses a sub-theme, which includes a beautiful and creative handmade hat which inspires and is worn with their bustier on parade day. (The theme is a secret until then.) Bustier beading is done by each individual member and each costume is as unique as the lady wearing it. Colorful wigs are common, as are tu-tus, sequined shorts and skirts, crazy tights…the more outlandish, the better. It's the perfect occasion to be someone else for a few hours.
One of my favorite things about being a Prima Donna, aside from spending time with 100+ fun ladies, is creating and throwing decorative bras, the signature throw of the Prima Donnas. Each of these "Mardi Bras" is a lovely little work of art, adorned with beads, feathers, sequins…you name it! They're time consuming, but oh-so worth it when you witness the reaction of someone who is handed one along the parade route or catches one from the Tropical Isle balcony. Just the thought of it makes me want to ignore everything I need to do tonight and make a few more to go with the twenty-four I've already completed. If you want one, come find me in the French Quarter next Friday…1:00 at Court of Two Sisters on Bourbon. (Guys, I'll be glad to throw you some beads, but only the ladies get the bras.) I guarantee you'll have a great time. Happy Mardi Gras!