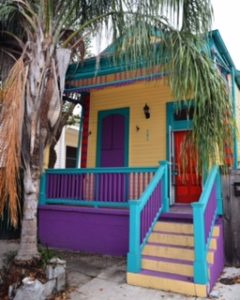 I am so thankful for the many beautiful houses in New Orleans to photograph and admire. The colors, the trim work, the creative use of space, and if you're lucky, the lead or stained glass windows…there's a lot to take in. Today I am focusing on my favorite area for house stalking in New Orleans…the Bywater.
Day 7 – Bywater Houses
In New Orleans, you will discover houses painted in colors that seem more suited for a child's fairytale than for the real world. Purple and green, chartreuse and turquoise, orange and blue…color combinations that would normally seem garishly over-the-top are right at home in the neighborhoods of New Orleans. Nowhere, in my opinion, are they more charming than in the Bywater, a neighborhood that causes me to lose all track of time and ignore all my responsibilities. There have been numerous times that I had no intention of spending time there, but mysteriously found myself wandering down those uneven sidewalks unsure of how I even ended up there.
This eclectic part of the city is home to houses of all sizes, some needing a great deal of tlc and others painstakingly refurbished from head to toe. One house may sport three or four colors, and I'm not talking about white, tan, and green, or other traditional colors, although there are a few of these. The colors I'm referring to can only be found in the 64-count Crayola box. As the worst paint color picker on the planet, I am amused by the "anything goes" attitude of this neighborhood. I'm not sure even I could go wrong here, although that alien green color I chose for my daughter's room a decade ago might earn me a letter from the Neighborhood Association. I'd post a picture, but really, who needs that kind of embarrassment? I think I'll just stick to admiring the interesting color choices made by the professionals and capturing as many as I can with my camera. Maybe I'll see you there sometime!