Day 8 – Wrought Iron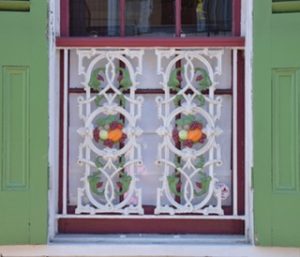 When you're walking around New Orleans, you may be inclined to look down so as not to trip over a broken sidewalk or fall in one of the city's notorious potholes, but if you aren't looking up, you are missing out on some of the greatest balconies in the world. And for these, today and every day, I am thankful.
While wrought iron is obviously not exclusive to New Orleans, it is a major part of the city's architecture, specifically in the French Quarter. Taken from Spanish architecture and designed to mimic Spanish lace, wrought iron is used on balconies, fences, and gates across the city. The more ornate and detailed patterns were generally an indication that the owner had greater wealth. *Pro tip…Discreetly walk alongside a carriage tour for a few blocks and you get a free New Orleans history lesson. 😉
I'm a big fan of the fleur de lis patterns, as they are so New Orleans-y, but I also love searching for more creative motifs. I came across a door adorned with an iron cornucopia on St. Peter Street, painted to match the colors of the trim. While not traditional, it's one of the most unique I've seen. And if it's conventional your looking for, just take a stroll down Royal Street. Don't forget your camera!