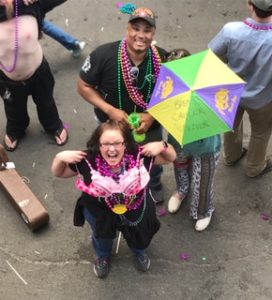 The beads have been sorted and donated or stored in the attic, the mantle is back to its boring, sparkle-free self, and most of the bustier and bra decorating remnants have been Roomba'd away (along with my magnetic eyelashes, but that's a whole other post), meaning that I am officially out of Mardi Gras mode. It always takes a little while to get back to "normal" and I have currently moved past the "if I had to go to another parade I might cry from exhaustion" point, and am well on my way to the "longing to hear 'Do Watcha Wanna' performed by a marching band and looking for excuses to wear a purple wig" phase. It's the time of year, just before the festivals start up, that I reflect back on the highlights (there are virtually no lowlights) of the Mardi Gras season and begin thinking of ways to make the next year even more enjoyable.
I was able to make it to 17 parades this year…nowhere near my record of 23, but not a bad showing. I was lucky enough to share 16 of those experiences with my son, and my daughter even made it in from college for 4 parades…a rare treat! This year I stayed (mostly) dry, came home with 7 new coconuts, added over 130 doubloons to my weird collection, consumed way too much king cake, took hundreds of photos, and created my best Prima Donnas costume since joining the group in 2015. It was a great year, but one particular moment stands out as the absolute best.
The Friday before Fat Tuesday is the day I am lucky enough to get to parade with a wonderful group of ladies known as the Prima Donnas. We bead bustiers, which become our beautiful, themed costumes, and after a full morning of fun, we stroll through the French Quarter with a brass band, concluding our walk at the Tropical Isle balcony. It is here that we throw beads and our signature hand beaded bras to enthusiastic onlookers. I love seeing the happy faces of the ladies (and occasionally men) who find one of these special treasures in their hands, but I also enjoy the pre-toss game…the dangling of the bra over the side of the balcony while the crowd yells, cheers, and shamelessly pleads for you to make them the recipient. Shouts of "it's my first Mardi Gras" and "it's my birthday" are thrown about, and some revelers even resort to, let's just say, other means of gaining attention.
At one point this year, I was standing on the balcony teasing the crowd with a Mardi Gras-themed bra, when a new face caught my eye. A pleasant looking woman was looking directly at me, waving her arms ardently, in an effort to get my attention. A man and woman with her were also trying to get noticed, but not for their own gain. They were frantically pointing at her, while holding an umbrella above her which said "Breast Cancer Survivor." This trio of strangers had no way of knowing that I had lost my mother to breast cancer ten years earlier, or that I had created a mini-collection of pink ribbon bras this year to celebrate her, but somehow, in a sea of a few hundred, we connected. I signaled to her to give me a minute while I went inside to retrieve the last, and most glitzy, of my pink beauties, then motioned for her to come to the front of the crowd. It took some maneuvering, along with a threat or two directed at a man who was brazenly trying to position himself in her spot, but in spite of my terrible aim, the bra landed safely in her hands. We spent a solid minute celebrating, cheering, and throwing kisses, and I'm not sure about her, but I shed a happy tear or two. She still does not know my story, but I have no doubt that she knows something special happened on that sunny Friday on the corner of Bourbon and Orleans. I wish I knew her name so I could follow up with her. I would love to know where she lives, how she is doing, who her friends are…I'm curious that way. I have already planned to include my Instagram name in next year's bras so I can see where they end up, and I am kicking myself for coming up with the idea a few hours too late, but, as they say, hindsight is 20/20.
To my survivor friend, I know it is highly unlikely that you will ever see this, but just in case, know that I wish you happiness and good health and many more Mardi Gras adventures. I will always remember our little moment, and you will forever be in my heart.